Welcome
Fruit West Co-operative and the
BRAVO
™

Branded Apple Story

Fruit West Co-operative is the innovative industry based

model licensed to commercialise the ANABP 01 apple

variety that produces the stunning BRAVO™ apple, an

apple like no other™.

Fruit West Co-operative is passionate about providing

high-quality produce to consumers, and securing fair

returns for growers and the supply chain; bringing new

varieties to market the delight consumers, and benefit

growers and the supply chain.
© Copyright Fruit West Co-operative Ltd. 2016
A Message from our Chairman
This is an exciting time for Australian fruit
growers and consumers with the successful
inaugural release of the new BRAVO™ apple.
Growers across the country can take
advantage of a robust and reliable supply
chain.
For the BRAVO™ apple to reach consumers in
perfect condition, every link in the supply chain
from nursery, grower, packer & marketer to the
retailer must work together to ensure the long
term viability of an industry based on food
quality & reliability.
By overseeing the growing and the marketing
of the apple under exacting quality
specifications at key points of production and
supply, our aim is to create an environment
where growers can confidently invest in new
tree stock, packers can be assured of regular
supply and retailers have a high-quality, great
looking apple to offer discerning consumers
supported by a strong brand
Management of this new tree variety & the
BRAVO™ apple is the start of a more
confident, standards based approach to the
fruit supply chain and one which we are
confident will benefit all concerned. We I hope
you'll join us on our journey
New Apple on the Block! BRAVO™ a hit with
consumers
The BRAVO™ apple is
changing everything for
apple growers around
Australia. To learn more,
read about the apples
history & importantly, its
future. You'll be amazed at the potential for growth
from this stunning and exciting newcomer.

Latest News from Fruit West Co-operative
Chairman
Fruit West Co-operative
Ltd
Launch of the New BRAVO™ Apple
A new firm and juicy WA-
developed apple has hit the
shop shelves after 20 years
of breeding and testing by
the Department of
Agriculture and Food
Western Australia (DAFWA)
and were quickly bought up
by consumers eager for a
new taste experience.
The apple has a distinct sweetness and a
moderate to high crisp and crunch factor, and
was first previewed by growers and potential
consumers in 2010.
The trees are now available for growing
Australia-wide. The commercial agreements
have been signed and industry body Fruit West
Co-operative Ltd is managing the
commercialisation of the variety.
The apple is grower friendly because the tree is
productive, the fruit colours easily and the apples
stand out from existing varieties on shop shelves.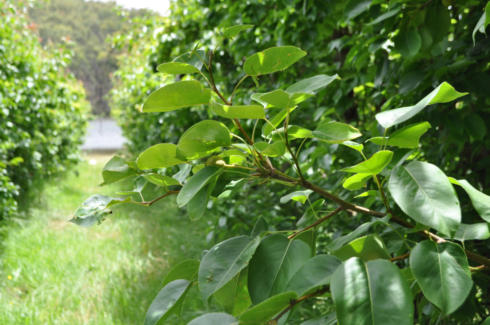 Photograph courtesy of Steele Jacob Technical Officer DAFWA
2019 Latest News
The ANABP 01 Apple Maturity Testing Guide is now
available. This is a handy tool for this year's
impending harvest. Find the guide on our ANABP01
Technical Page
Congratulations to Tim Sheehan (winner 1) and
Charissa Naran (winner 2) joint winners of the best
BRAVO™ moment 2018 photo competition hosted
on Bravo™ apples facebook and Instagram pages.
Winners!!